Now You Can Create Stunning Landing Pages and Squeeze Pages That "Lands You LEADS and SALES" Without Agonizing Over Your Copy OR Technology ... 100% Guaranteed!
Get the same techniques I've used
to build my list and get results!
Dear Hard-working Business Owner,


Imagine waking up in the morning to find that while you were sleeping soundly, a dozen more people subscribed to your newsletter.
These are people who are interested in what you have to say!
They are raising their hand, telling you they
liked
what they read and they want more!
More
of YOUR expertise...
More
of YOUR insightful analysis...
More
of YOUR solutions to their problems...
Because
YOU
created a squeeze page the RIGHT way, people are happy to subscribe to your email list so you can continue to serve them with great information and great offers!
Imagine if you had the power to influence people's minds...
Imagine if you could do it by using a simple blueprint to activate their "buying signals" so they took action on your offer.
Now imagine creating a landing page that features YOUR special offer and having people respond.
Maybe you want them to buy your product... and with your HOT landing page, they will!
Maybe you want them to join your subscription-based service, and your landing page does all the work for you!
Or maybe you want people to download a very special white paper... one that is selling a solution that costs hundreds of thousands of dollars...
And your squeeze page captures highly-qualified leads!
For a moment you think you dreamed up a secret "marketing angel" who skims the Internet to find your perfect buyer.
But this is no dream. It's real. And it's a lot more affordable than you think... PLUS it takes less work to do today than it ever did.
Let me share with you a little of my story.
Twelve years ago I started to build my own websites online. It was tough. I even bought a book,
HTML 4 For The World Wide Web
. I was determined to learn basic HTML so I could code my own website.
Good night!
I remember the days (and nights) when I combed through lines of code in order to find
the one area
where a quotation mark was missing.
Code is unforgiving.
If you miss even ONE piece of it, the HTML just won't work.
Over the years, I've researched and tried a variety of software in order to get my website functional and looking good. So trust me when I say I understand your feelings – you're overwhelmed!
You know having a website is really a "non-negotiable" when it comes to running your business, right?
Whether you're a small business owner or self-employed, you know a website can bring you more business.
The only question you might have is, "How?"
And if you've spent any considerable time on the Internet, you already have discovered there are a LOT of "solutions" out there.
You simply might be unsure of what to do next.
But I have some good news.
If you stick with me until the end, I'll make sure you learn what NOT to do with your business website. And what you need to do, instead.
Hi. I'm Mary Rose "Wildfire" Maguire and I've been in your shoes.
Years ago I wanted to have my own website. I wanted to get my message out into the world.
The only problem was, there were so many choices! And that was TWELVE years ago! The amount of choices since then has
exploded
.
But I spent those twelve years learning everything I could about building a website. I discovered WordPress, one of the most popular content marketing platforms in the world.
I attended three "Word Camps," where experts shared how to use WordPress for a business website. And I learned how to tweak a website so that it is optimized to deliver my message and reach a larger audience when they 'Googled' my keywords and phrases.
I studied SEO best-practices and applied them. At the time, I was working as a marketing manager for an information security company. By applying these techniques, I increased:
>>
Website traffic by 308% and blog traffic by 472%
>> Website pageviews by 935%
>> Blog pageviews by 575%
>> Average time on website by 487%,
>> New Visitors on the blog by 160%


And decreased bounce rate on website by 45%. That means people stayed on the page longer to read the content.
That was back in 2010.
Last year I created several landing pages that converted around 33%. And with my squeeze page, I increased my own email list by 225%.
This kind of growth takes effort.
Consistent effort.
But it also takes knowing which "moving parts" you should put in the right places.
Which is what I will teach you with my brand new product.
I'm going to be honest with you.
If you think you can't create a landing page or squeeze page without being some "tech whiz-kid," then I'm here to say you've been simply misinformed.
You just don't know where to find the right answers.
Do you want to know the secrets to getting your landing pages and squeeze pages up and running? Here they are...
·  You need
a hosting service
for your landing pages – this could be your website but you also could use a landing page service such as LeadPages


·  You need
an email service provider
– this could be MailChimp, Emma, Constant Contact, Vertical Response, ConvertKit, Mad Mimi or someone else


· You need to
develop a big idea
for your landing page or squeeze page


·  
You need hot headlines to hook your reader


·  You need
solid copy
that will make the case for whatever you want your reader to do


·  
You need a system...


Save time by knowing WHAT to put on a page!


You see, landing pages and squeeze pages have quickly become THE "digital workhorse" for a website.
A landing page especially needs to include a lot of information.
But not just
any
information.
Information that will persuade your perfect customer to
take action!
And the best way for me to teach you how to do this was to create a product that will reveal to you all these little secrets and details. And I did.
It's called: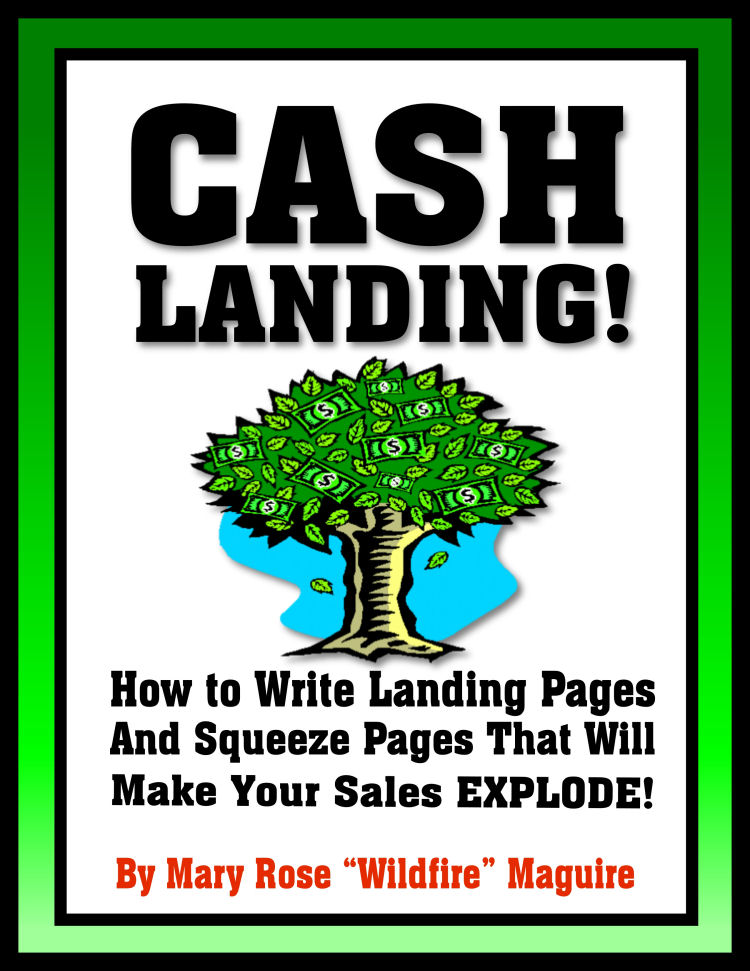 CASH LANDING:
How To Write Landing Pages And Squeeze Pages That Will Make Your Sales EXPLODE! (Worth $179)
This special package has the step-by-step instructions, templates, and graphic illustrations
that will help you build the website you've always wanted!
It's just what you need to help you create a squeeze page that gets attention AND gets people to sign up for your list.
It also has detailed instructions on building your own landing page – without the complications of hiring someone else or figuring out what you need in your copy. 
I've spent well over $15,000 over a period of ten years just to search for the ultimate way to write copy for squeeze pages and landing pages.
Plus I've clocked in
thousands of hours
learning how to work various software programs that help with the back-end of creating squeeze pages and landing pages. 
And now you are going to learn step-by-step, the way to create stunning landing pages and squeeze pages... and how you can achieve the same results!
First, the 41-page eBook... you'll discover:
·  
Landing pages and squeeze page are the same thing, right? Wrong.
And here's why you need to know the difference (p. 9)


·  
How B2B companies can use landing pages to find
GOLD
in a mountain of content marketing (p. 10)


·  Slip into this secret "professional persona"... and become
a "Master of Persuasion"
that will make your copy
irresistible
. (pp. 10, 11)


·  Finally...
a way to grab (and hold onto) your website visitor before he vanishes into thin air!
(p. 12)


·  The best place to use your squeeze page for
MORE
opt-ins (other than your own website home page) (p. 13)


·  
Why B2B companies need to have a squeeze page for this ONE very important asset
(p. 14)


·   
7 little-known or rarely used places to promote your squeeze page
(p. 15)


·   4 secrets for a powerful landing page that will
convert visitors into buyers
(p.16)


·   Headlines should sell your product, right?
Wrong.
Here's the real reason for your headline
(p. 16)


·   THE most powerful headline blend that
attracts your reader like a magnet
(p. 20)


·   
The "A-List Copywriter" secret for mouth-watering copy – it's not what you think!
(p. 21)


·   "7 Highly Effective Techniques" you can use to get to know your audience –
use technique #2... and your competition won't stand a chance!
(pp. 21, 22)


·   
Need to inside the head of your perfect buyer quickly?
Try this "quick and dirty" tip copywriters swear by (#6 of the "7 Highly Effective Techniques") (p. 22)


·   
How to develop a bond with your reader.
A surprising insider copywriting secret to get a response (pp. 23, 24)


·   Most business owners try to do too much with their headlines.
You'll learn a better way...
(p. 25)


·   
THE key question you must ask every time you sit down to write a headline
(p. 26)


·   What you need to know about using numbers in your copy –
and yes, there's a magic formula
(p. 28)


·   
Why you want to avoid "rounding off" numbers in your copy
(p. 29)


·   
A dead-simple way to breathe life into dull copy – very quick and very effective
(p. 29)


·   Go on a 'search and destroy mission' to rid your copy of these annoying words that weaken your claims.
Do this instead and your copy will ripple with strength!
(p. 30)


·   This one, small word is STILL the "Master of the Copywriting Universe"
– use it and instantly your buyer will be riveted
(p. 30)


·   
PLUS – my proprietary system that will explain EXACTLY what you should have in place to make the most out of your digital marketing strategy.
I peel back the curtain to reveal what Internet top marketers do to generate hot leads on a consistent basis... and generate sales! (pp. 31 – 35)


Not only do I describe in detail everything you need to know about a squeeze page and a landing page, I've included even MORE to help you create your own.
It's pure meat... and no filler!
I'm just getting started. There's more.
LOTS
more...
You also get: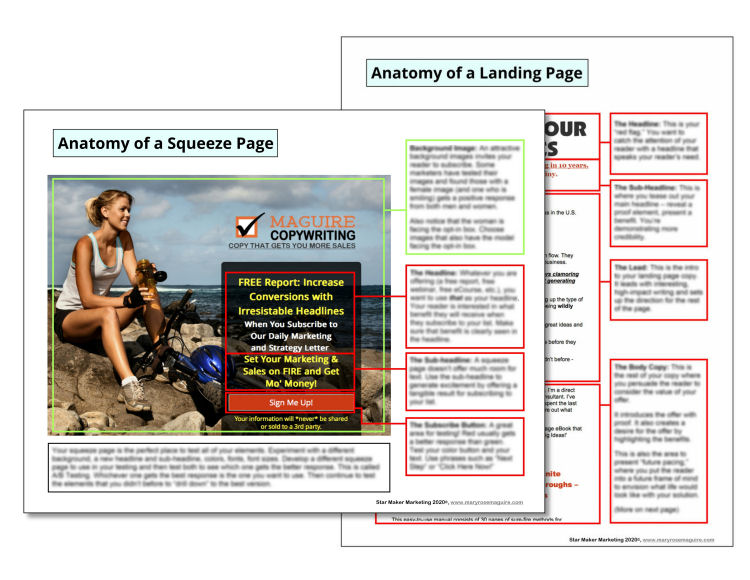 Anatomy of a Squeeze Page
and Landing Page (Worth $49)
(See with your own eyes what a Squeeze Page and a Landing Page look like... and what you need to include when designing one)
These are two separate documents.
Each one is
a graphic illustration
of what a squeeze page and landing page looks like – plus all the "moving parts" that makes each one run like a well-oiled engine.
·    You'll see examples of where to place the headline, sub-headline, lead, and everything else that goes into a well-designed squeeze page and landing page


·    You get inside tips on the design elements, what type of graphic design elements to use for your pages


·    Learn which areas are ripe for testing... and specific ideas for those areas are included
And if that wasn't enough... you also get:
An Essential Resource:
CASH Landing: The Landing Page Template: A Step-by-Step Blueprint
For Organizing And Writing
Landing Page Copy (Worth $479)
Quite simply, this template is an absolute LIFESAVER.
This 21-page document explains in nitty-gritty detail EXACTLY what you need to include in your landing page copy.
You'll learn:
·   
How to make your headline stand out: fonts to use and sizes
(p. 6)


·   
A secret tool I use to discover which fonts to use with my own landing pages
(p. 6)


·   What a "lead" is and details for writing an irresistible one...
including powerful questions that A-list copywriters use to nail down the emotional drivers for their own copy
(p. 7)


·   
"Ice-breaking" questions that will break through "writer's block" and get you flowing with brilliant insights into your perfect buyer's mind
(p. 7)


·   
A crystal clear "connect the dots" process
that will help you link your product/service to your buyer's fears and desires (p. 8)


·   
Eight specific ways to build rapport with your perfect buyer...
you'll learn how to discover
what to say
to show him you're on his side... not only do you want to help him... but you're UNIQUELY QUALIFIED to do so! (pp. 10, 11)


·   Diving into the body of the copy,
and step-by-step examples of mouth-watering bullets, and why this approach is so important
(pp. 11, 12)


·   
The Offer – building a strong foundation for it and making your case...
all the elements you need for presenting your offer to your perfect buyer is in this section (pp. 12 – 15)


·   
How to handle objections
– an area that few business owners focus on...
you MUST learn how to address objections if you want people to buy
(p. 16)


·   
The "Call to Action" (CTA)
– this is when you finally make an appeal to buy from your prospect...
learn the secret for melting away any lingering doubts or objections
(pp. 16, 17)


·   
The P.S.
– yes, a good landing page still uses the P.S. at the end. Here's EXACTLY what to include in your P.S. ...
and why you don't want to skip using it to speak to two very specific types of prospective buyers
(pp. 17 – 19)


·   
Additional tips – how to keep your prospect reading, the types of images you want to consider using, and why using testimonials is strongly encouraged
(pp. 19 – 21)


Copywriters charge anywhere from $750 - $5000 for a good landing page.
And if you value your time at $80+ per hour, it would take you at least six hours to pull together the ideas and concepts in this valuable template.
You'll be able to quickly jump into "baking the cake" instead of trying to figure out the right ingredients to put in it!
And if you follow the template, you'll get a HUGE pay-off! Not only will you save time, you'll get more bang-for-your-buck by streamlining the process.
Just imagine:
·   
No more stressing out
over what you need to do with your website in order to get leads and make sales...


·   
No more confusion
over what a "squeeze page" does and what a "landing page" should do...


·   
Know exactly what you need to do
to create the most effective squeeze pages and landing pages – without complicated 'techno-speak'...


·   
You can quickly create a squeeze page, set it up in minutes
and still have plenty of time to achieve your other goals for the day...


·   
You'll feel confident knowing you finally have a handle on your digital marketing... understand how it all works together to make your business successful.
But That's Not All! 
Here's what I'm throwing in for you to make the package even sweeter!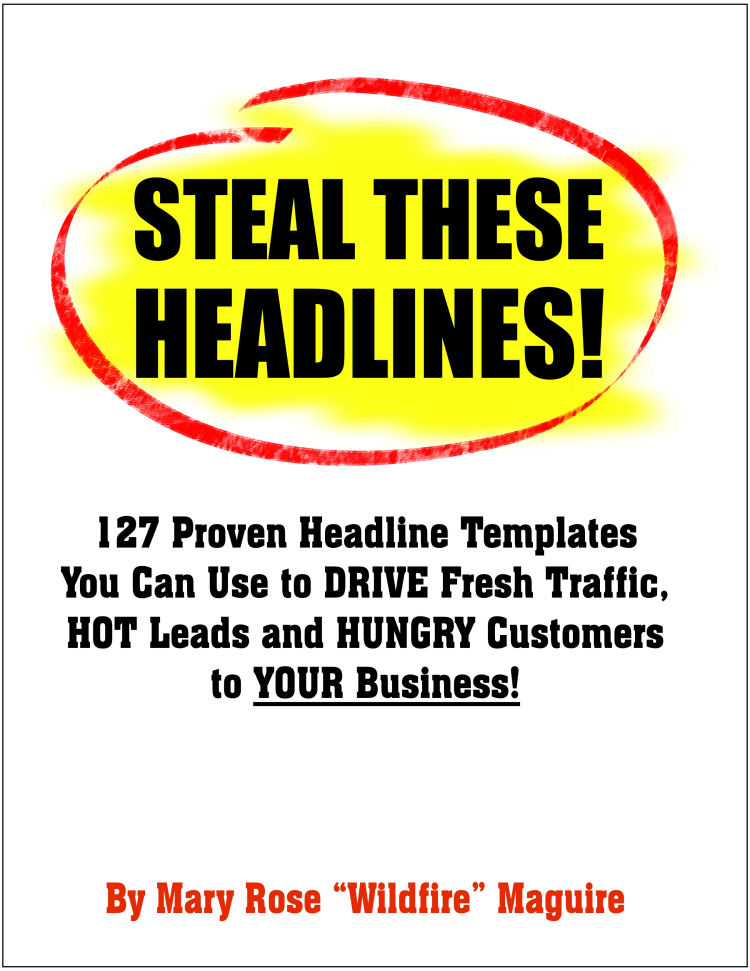 BONUS #1:
An Incredible Resource:
"STEAL THESE HEADLINES: 127 Proven Headline Templates You Can Use to DRIVE Fresh Traffic, HOT Leads and HUNGRY Customers to YOUR Business!"
(Worth $297)
This PDF document gives you
127
of
some of the most effective headline formulas that exist...
with a clear example and then a "Fill In The Blank" headline underneath, so you can quickly create your own.
If you hired a copywriter to come up with TEN headlines, you'd easily pay her around $500. Some copywriters charge as much as a $1000 or more!
Coming up with headlines is one of THE most 'noggin-squeezing' activities a copywriter does. It takes a lot of focus and concentration.
The key to creating that ONE powerful headline is creating a LOT of headlines. This resource will help you do it.
·   Get easy to follow headline templates
that show you
exactly what to say


·   Play around with groups of headlines, which often leads to a combination of
THE best one to use


·   
Use these headlines as a "springboard" that helps you dive in deeper with your copy...
appealing more to your potential customer's most pressing pain points


·   
Use the PDF for a "swipe and deploy" mission...
copy and paste the headlines into your own document so you can quickly experiment with creating your own


·   
Save your hard-earned dollars...
sometimes you don't have the time or budget to outsource creating your headlines for your product or service.
This resource will be a HUGE asset for your marketing team!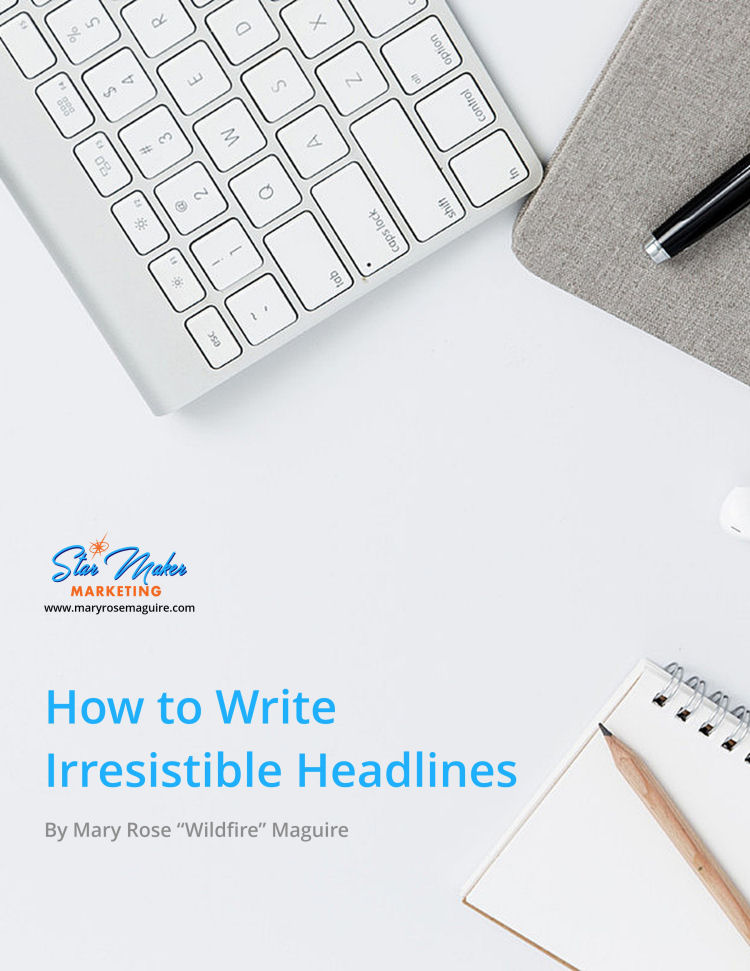 BONUS #2:
A Fundamental Resource:
"How to Write Headlines That Get Attention" (Worth $27)
This 25-page eBook contains a larger, expanded collection of headline-writing articles.
You'll learn:
·   
Why this one type of headline STILL works like gangbusters for attracting the attention of your perfect buyer
(pp. 6, 7)


·   
Grab these magnetic keywords
to write a headline that is sure to hook your reader and reel her in! (p. 10)


·   
The hypnotic combination of these two types of headlines
creates a 'perfect storm' in your perfect buyer's mind and she MUST read more! (p. 12)


·   
A "quick-n-dirty" cheat sheet on what consumers REALLY want...
add one of these to your headline and watch your conversions rise (p. 16)


·   Why headlines are the "preview trailer" for your business "movie" (pp. 20, 21)


·   The story of how one car rental company
COMPLETELY blew it with their headlines...
and got the Chief Marketing Officer fired! (pp. 22 – 24)


·   
The best advice John Caples gave to copywriters... and why every "A-list" copywriter follows it religiously
(p. 25)
BONUS #3:
Your Privileged Entry To:
My Exclusive, Secret Marketing
Group on LinkedIn (Worth $297)


I'll be honest.
I'm not sure how long I'll be able to commit to this group.
We're just getting started, but I'm always playing the long game...
Many online marketers are charging upwards to $97 per month to belong to their secret "mastermind" groups.
I figure this group is worth
at least
$25 buckeroos a month.
Because you're getting access to me.
And my attention ain't cheap.
Another aspect to consider:
Most experts who transition to coaching will at first coach people one-on-one. Then they switch to group coaching.
And then they're soon hardly available to anyone because eventually they're so busy with speaking engagements, program creation, and consulting with clients.
I'm only one person.
And at this time, I can offer you much more attention than you'll ever receive from most marketers online.
But it's not just me in this group.
You'll have access to other business owners and marketers who also have decades of experience...
and they bring insights that can help YOU reach the next level.
The path to success is never a solo one.
We all have had generous teachers and mentors along the way. And when you gather together with other like-minded individuals who also want to achieve BIG things... magic happens.
So believe me when I say this is a VERY generous offer. Grab it while you can.
BONUS #4:
An AMAZING 'Do-It-Yourself' Resource:
Sales Page Templates
(HUGE Value: Worth $2,497+)
If you want to create solid sales letter that will position your product/service as THE solution for your prospective client or customer, then you're going to love these templates!
There are
FIVE sales letter templates
with guides on how to customize it for your needs. Just fill in the blanks in specific locations and add details to create the type of sales letter that you can either use in a direct mail campaign or publish it as an online landing page.
If you hired me to write a custom sales page for you, you would pay at least $2,497 for ONE page.
Sales letters typically are 5,000+ words. They take a lot of work to write, not to mention the revisions.
But with these templates, a lot of the hard work has already been done for you! All you need to do is complete the blank areas and fill in the sales copy with the features and benefits of your offer.
What often could take a month to complete could only now take days! Use one sales letter as is or mix and match the sales copy with others. The possibilities are endless.
You'll never face a mental block again when writing sales copy when you have these templates at your fingertips!


BONUS #5:
An INCREDIBLE 'All-Inclusive' Resource:
Squeeze Page Critique (Worth $297)
Limited Offer! After Sunday, January 31
at Midnight... it's GONE!
I've saved the best for last!
If you're reading this, know this bonus is only being offered to my subscribers and FOMR (Friends of Mary Rose).
I can't offer this special bonus to everyone.
But it is something I want to offer to you because I truly want you to IMPLEMENT this information!
Here's how it will work:
You get your squeeze page set up (and I can help point you toward resources to do that) and write your initial copy for it.
You then send the URL to me and I'll critique everything about that page.
The design... colors... copy...
everything
.
I'll send you a document that will include areas where you can test a different approach. I'll even include some fresh ideas and examples.
As you might imagine, this requires some research.
Not to mention a copywriter's expertise.
But I'm happy to do it
because I want to see YOU soar high with your squeeze page!
Headlines, sub-headlines, offers, CTAs... they all should work together to get YOUR perfect buyer excited about joining your list!
But this offer is a limited one. Snap this entire package up before it disappears!
After midnight on Tuesday, January 26... I'm yanking this baby out of the offer. So if you want someone to evaluate your squeeze page with an experienced eye... the time to act is now!
Yes Mary Rose, I'm IN! Send Me the "CASH Landing" Package Today…Right Now!


Listen
: To get the same "know-how" that I have would take you YEARS of trial and error, spending hours…days…and MONTHS learning about different approaches for creating squeeze pages and landing pages to see what works.
Well guess what? 
I've already done all the hard work for you
.
Just follow the blueprint I share in
CASH LANDING: How To Write Landing Pages And Squeeze Pages That Will Make Your Sales EXPLODE!
… and you can join the hottest information marketers online who launch product after product with ease.
So I'm saving you essentially THOUSANDS of dollars of time, heartache, and beating your head against the wall. And if you value your time at all, "CASH Landing" – complete with all the bonuses – is worth at least $4.122.
But you won't pay that
.
For a limited time I'm going to let you have my blueprint for creating successful squeeze pages and landing pages for 
ONLY $149
.
Yes, you read that right!
For ONLY $149, you'll receive:
1.
  The 41-page book,
"CASH LANDING: How To Write Landing Pages And Squeeze Pages That Will Make Your Sales EXPLODE!"
... chock-full of helpful information and illustrations on creating stunning landing pages and squeeze pages! (Worth: $179)
2.
"Anatomy of a Squeeze Page" and "Anatomy of a Landing Page"
: Two incredibly helpful documents that give you an "eagle's eye" visual view of what these pages should look like and ideas for making them "pop!" (Worth: $49)
3.
"CASH LANDING: The Landing Page Template - A Step-by-Step Blueprint For Organizing And Writing Landing Page Copy"
: THE ultimate step-by-step instruction book on how to organize your landing page copy (Worth: $479)
4. 
BONUS #1: "STEAL THESE HEADLINES: 127 Proven Headline Templates You Can Use to DRIVE Fresh Traffic, HOT Leads and HUNGRY Customers to YOUR Business!"
: An essential resource that will enable you to quickly write out dozens of headlines to discover which one resonates best with your audience! (Worth: $297)
5.
BONUS #2: "How to Write Headlines That Get Attention"
eBook: A series of in-depth articles that show you the most effective types of headlines, the questions to ask yourself to help you create them, and headline secrets of professional copywriters (Worth: $27)
6.
BONUS #3: EXCLUSIVE MEMBERSHIP to my secret 'marketing mastermind' group on LinkedIn
(Worth: $297)
7.
BONUS #4: FIVE Sales Letter Templates (Worth: $2,497+)
Five "Do-It-Yourself" templates that will guide you toward creating the perfect sales letter for your needs.
8.  BONUS #5: LIMITED OFFER: An All-Inclusive Squeeze Page Critique (Worth: $297) – THIS BONUS WILL BE OFF THE TABLE BY SUNDAY, JANUARY 31 AT MIDNIGHT
Many marketers would charge
at least
$497 for this package.
But you won't pay that!
You won't even pay $297...
Instead, you're receiving a WHOPPING 40% discount on the usual price of $249, and only paying $149!
And when I say this entire offer is limited, I mean it.
This price
will
go up in the future. And it won't include a squeeze page critique.
LOOKING FOR THE FEW... THE BRAVE... THE COMMITTED...


Usually a guarantee would go smack dab in this spot. (You'll see that in the
Landing Page Template
document.)
But I'm doing something a little different.
And yes, it might cost me sales. But here's the deal:
I only want you to buy this package IF you're committed to change.
Because I am committed to you.
I've put a lot of hard work into creating the "CASH Landing" Package.
You see, I did it because I believe in you.
I believe that if you really want to succeed with your website, you'll realize you need to get on board with using squeeze pages and landing pages.
And after reading everything you get for the super-low price of only $97, it is my most sincere desire that you're saying,
"YES! Holy Cannoli... this is a no-brainer! I'm ready to rock these pages all over the Internet!"
I am committed toward helping you do that...
and helping you WIN!
So here is my guarantee.
There is no money-back, refund, or risk-free portion of this particular offer.
I don't want to make it easy to quit.
I want you to see this whole thing through...
However, I
do
guarantee if you:
·       Read the information
·       Get involved in the Facebook secret group
·       And learn how to set up your own squeeze page so you can start generating leads and sales with your website...
I will help you fill in the gaps.


I will assess what might be missing from your own "marketing toolbox."
And I'll help you find what you need or guide you toward the goal.
Make sense?
I will do everything in my power to make sure this all works for you.
All you need to do is invest in yourself.
So... You Can Either Fly Solo Or Learn
From Someone Who Has Studied the Internet for 20+ Years, Created Successful Websites… And Knows What Works


This is "no brainer" decision
.
I have written copy for hundreds of web pages and blogs.
I've created dozens of landing pages and squeeze pages…and KNOW what works and what doesn't when it comes to getting people to not only subscribe to your own list, but get them to take action.
My clients have experienced my work ethic. I have several who have worked with me throughout the years because they know I get "stuff" done.
Digital marketing mastery doesn't happen by accident.
It has to do with following a specific "blueprint" for website marketing success that's been painstakingly created from 20+ years of trial and error.
Creating a successful website that delivers leads and sales is NOT as simple as slapping together a website template on your domain name and then expect people to flock to your business.
A deep understanding of what goes on "behind the curtain" – plus the tools you need to make everything run smoothly – is critical to creating a strong, sustainable, profitable digital marketing strategy that features squeeze pages and landing pages.
You'll get this "blueprint" on many levels when you take action right now and order
"CASH Landing: How To Write Landing Pages And Squeeze Pages That Will Make Your Sales EXPLODE!"
Don't delay. Why not do it now, while you're thinking about it?
One more thing... I'm planning on expanding on this product. You're getting in on the ground floor and will receive any future updates as I grow!
When I do this, the price is bound to increase. So get in while the gettin's good! Grab your copy of the "CASH Landing" package now while the deal is still available!
Remember: SUNDAY, JANUARY 31 is the DEADLINE to get the Squeeze Page Critique Bonus. Grab it today!
Yours for fresh, new and WINNING ways,
Mary Rose "Wildfire" Maguire
P.S.
If you've been struggling to understand how to make your website give you the leads and sales you want... if you are confused about "funnels" and email marketing... or if you feel overwhelmed by technology... this package is for you.
You ESPECIALLY don't want to miss out on my "Squeeze Page Critique" Bonus!
I created this offer just for you. If you've been unsure of how to move forward with getting your OWN squeeze page up and running... NOW it's your turn to fly high! I'll help you get there.
But the clock is ticking on that bonus... don't wait until it's too late!
P.P.S.
This entire package isn't for you if you're still unsure that digital marketing works.


If you think the only type of marketing that is "good" consists of spreading out a few flyers in neighborhoods around you, then I can't help you. Digital marketing works... if it's done right. And this package teaches you how to do it right. Hop to it if you're looking to get results with your website.
P.P.P.S.
The most important thing you are going to learn from
"CASH LANDING: How To Write Landing Pages And Squeeze Pages That Will Make Your Sales EXPLODE!
" is that it's completely doable... and necessary for a successful business. You won't want to lose this opportunity to learn all about it. So grab your copy now!